---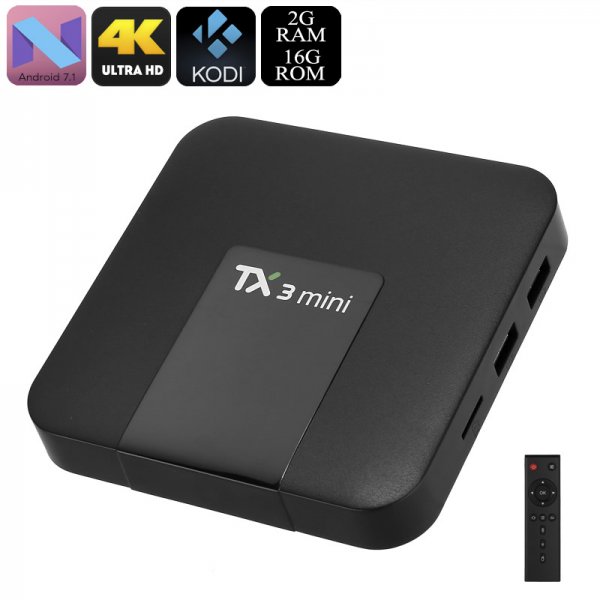 ---
---
Previous Price: $41.41
Last Checked: February 25, 2018
---
Undergo an outstanding media experience while enjoying the latest Android features straight from your big screen TV. With the Tanix TX3 Mini Android TV box at your side, you'll be able to turn your regular TV into a high-end Android smart TV. Once in place, it allows you to play games, watch movies, and even browse the web thanks to its WiFi support. This will truly treat you to unlimited entertainment to enjoy from your TV. Along with its Android 7.1 operating system, Google Play access, and Kodi TV support – it is sure to deliver hours' worth of fun to enjoy. The Tanix TX3 mini TV box supports the latest Ultra-HD 4K media. This means that you'll be able to enjoy your favorite films, series, and sports games like never before. With its Quad-Core processor and 2GB of RAM, your 4K TV box is sure to handle all the basic Apps and media out there. Simply download the TV Apps and games of your liking, or stream films straight from the web. With this Android TV box at your side, you'll never have to be bored again. This compact 4K TV box treats you to 16GB internal storage. For those of you that need even more, it also comes with a 64GB SD card port. This provides you with more than enough storage to keep all your files and media. In order to upgrade your overall user experience even further, this Android TV box supports Bluetooth, DLNA, Miracast, and Airplay. No matter your media demands, this Android TV box us sure to meet them all. This Tanix TX3 Mini Android TV Box comes with a 12 months warranty, brought to you by the leader in electronic devices as well as wholesale media players.
---
Chinavasion Price History
| Type | Price | Date |
| --- | --- | --- |
| Current Price | $41.24 | February 25, 2018 |
| Highest Price | $41.24 | February 25, 2018 |
| Lowest Price | $28.81 | October 26, 2017 |
| Average Price | $36.05 | - |
Latest 5 Price Changes
Date
Price
February 25, 2018
$41.24
February 15, 2018
$41.41
February 8, 2018
$41.22
February 2, 2018
$41.75
January 27, 2018
$41.59
---
"Wholesale Electronics & Gadgets"